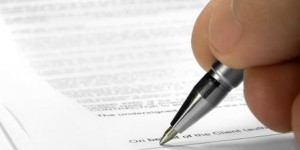 Making wedding arrangements with vendors can be very complicated when you are not organized with contracts and receipts. Be sure that you have read each contract and understand the policy. Each contract should include the wedding date, the time of the wedding, the location of the wedding, when items should be delivered, etc. It is very important to keep a copy of each contract on file for each wedding arrangement you make such as florist, reception location, caterer, hair salon, or photographer. Every contract should include a refund policy. Read this policy over carefully. Make sure it states what the refund will be if you cancel and what the penalty is if the vendor cancels.
Keep every receipt you receive in a safe organized place. Each receipt should include the list of items ordered, wedding date, delivery schedule, type of payment, description of item, etc. these are very important details of the items ordered.
When ordering your wedding gown or bridesmaid gowns make sure the receipt and contract include specific information such as alteration details, delivery date, sizing, style number and description of the gown, including the designer.
Remember to keep these important items organized and together in a safe spot. Keep any information you receive when making wedding arrangements. You are making a big investment, be careful that you do not lose any important papers that you may need if a problem occurs.