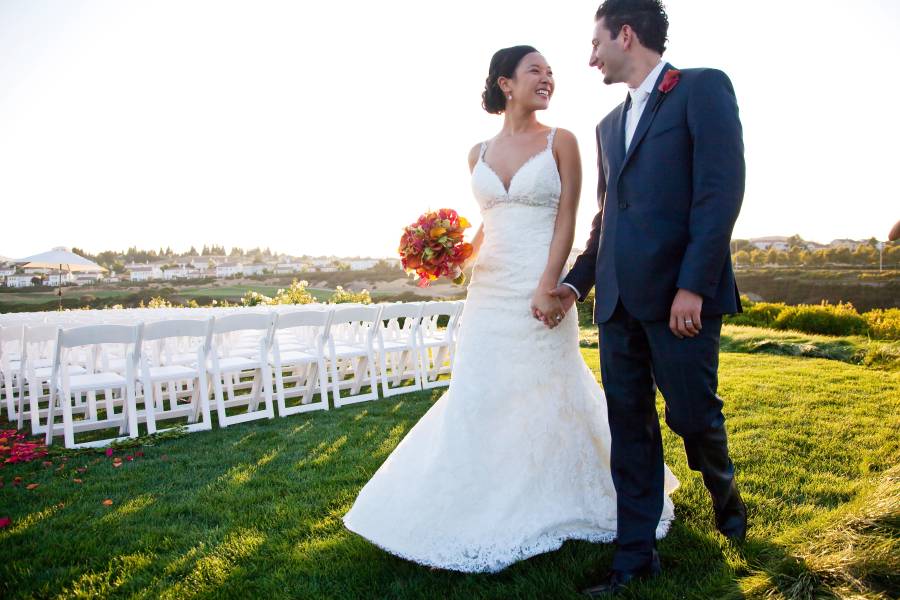 There is so much going on the day of your wedding that things may slip your mind. Although, with the help of your bridal party and parents, the essentials will be remembered! Here are a few things that we encourage you to do after the wedding ceremony.
1.  We don't doubt that you will shed a few tears during the ceremony. It is a good idea to touch up your makeup before taking pictures with your husband. Don't forget to bring a small bag with some essential makeup items for touching up.
2. It will be a very long day, be sure to remember to take a bathroom break after the ceremony. Between taking wedding photos and greeting guests it may be hard to find time to take a quick bathroom break during the reception. Ask a few bridesmaids to go with you to help with the wedding gown!
3. You definitely want to make sure to eat something. With the day filled with emotions you may not have a big appetite but it is a very good idea to have some substantial food in your stomach especially if you will be drinking. No one wants to see an ambulance at their wedding!
4.  Most brides  switch into a pair of comfortable shoes for the reception. It is a good to bring a pair of flats with you in case you want to change shoes before/during the reception.
5. Try to sneak a few moments away with your husband before the reception. It will allow you to have a chance to reflect on yourselves and the wedding.
6. Remember to put on your engagement ring after the ceremony. You may have moved the engagement ring to your right hand, remember to put it back on your left hand with the wedding band. Also, you should take off your veil at this time with the help of your MOH.
7. Collect all sentimental items that were used during the ceremony. The unity candle, flowers, programs, photographs, and other items that were used during the ceremony can be easily forgotten behind. Ask your wedding coordinator, bridesmaid, mom or someone you trust to collect these items before leaving the ceremony site.
8. You will want to thank your bridal party and parents for all of their support. This is a great time to thank them before the reception begins. It is a great moment to gather your emotions, feelings and thoughts!
This a great list to remember on your wedding day. Ask a few bridesmaids to remind you of some of these important things.