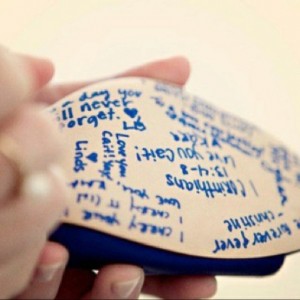 The last part of the traditional poem, Something Blue dates back before the 19th century where it was traditional that brides wed in a blue wedding gown. The color blue symbolizes love, fidelity, and modesty. Something blue can be incorporated into your wedding as little or as much as you wish. Either way it should be something that is memorable to you.
Some ways to add something blue into your wedding are with jewelry: ring, bracelet or necklace. Use a piece of jewelry that is sentimental to you, such as your favorite piece that is your grandmothers.
Royal blue shoes will make a bold statement. Brides are putting their own personality into a traditional wedding by adding "I Do" decals or writing on the bottom of her shoes with blue sharpies.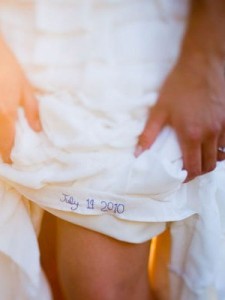 Don't want your something blue to stand out? Engrave your wedding date with blue thread to the bottom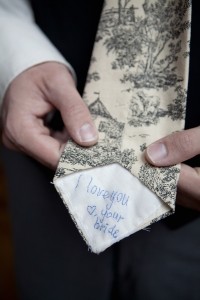 the lining on your wedding gown.  You can also have the wedding date or your initials sewn in blue thread to the cuff of your husband-to-be's tux. (Remember, only if he bought his tux!) Another cool idea is to have a message that you have written to your love be sewn on the back of his tie, such as "I love you <3 Your Bride". Your veil can be incorporated by sewing a blue heart on the veil.
Use a piece of blue material and sew it into your gown. A blue purse is a great way to add something blue into the wedding. It adds a pop of color to your wedding.
There are plenty of other creative ideas that you may think of to incorporate "something blue" into your wedding. These are just a few to get your mind going, but remember however you plan to add something blue to your wedding; it will be memorable to you and your husband.
How are you incorporating something blue into your wedding?