Sometimes planning your wedding feels like a full-time job.  And with having to deal with your paying job, friend & family obligations, working out, food shopping… the last thing you want to do at the end of the day is more work!  Well, I know of one thing on your list that can be figured out while on that train ride home before greeting your living room couch– choosing your reception music. 
Making a decision on what type of music to be played at your wedding should be stress free. Music is not meant to cause stress. Songs are like mood rings. They are based on your mood. If you are in a bad mood, maybe you would listen to Daniel Powter's, "I had a bad day…". If you were in a relaxed mood, maybe Jack Johnson's, "Banana Pancakes," would set the mood. If you were attending a wedding, you may be in a happy mood or dancing mood especially after a few cocktails.
Brides, the music playlists on your IPhones, Blackberry`s, IPod`s, etc. are the answers to the question, "What music should be played at my wedding?" As you are seated on the train, take a look at your playlists. What songs make you smile, put you in a great mood, make you think of your fiancé, make you wonder when the stress will end? Those songs that you enjoy should be played at your wedding. When you arrive home, dinner is prepared, so how about you and your fiancé enjoy a relaxing evening listening to both of your favorite songs? This may seem cliché, but at least anxiety is not present. Here are some other things to consider when choosing music for your wedding: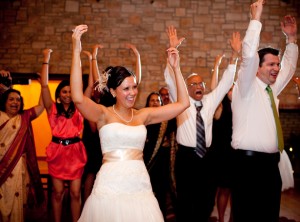 Traditional Wedding Reception Songs:
1.)    Raining Men- The Weather Girls
2.)    The Electric Slide- Marcia Griffiths
3.)   YMCA-VillagePeople
4.)    Cha Cha Slide- DJCasper
5.)    Brown Eyed Girl- Van Morrison
6.)    Mambo # 5-  Lou Bega
7.)    Staying Alive- Bee Gees
8.)    Twist and Shout
And the list continues. If you are the type of bride to stick to tradition, then consider choosing these songs for your wedding.  Even if you think they're cheesy, people will get up and dance!
If the traditional wedding songs are not your scene, consider choosing more relevant songs from the New Year. Tradition is a good thing, but sometimes new playlists are also good. Here are a few examples:
1.)    Marry Me- Train
4.)    Just a Kiss- Lady Antebellum
5.)    Love You Like A Love Song- Selena Gomez
6.)    Are You Gonna Kiss Me or Not- Thompson Square
If you do not prefer the traditional YMCA, Raining Men or solely brand new songs for your wedding, consider combining the two to even out the mood. Ask the DJ or band to play the YMCA for the relatives whose dance moves consist of hand motions, then request a song for the relatives with more rhythm.
I hope that you have come to realize that choosing music for your wedding should not be stressful. Just relax. Pick up your electronic devices and listen to your music.  Incorporate your musical tastes into your wedding day and as long as you and your new husband are having fun and dancing, everyone else will, too!