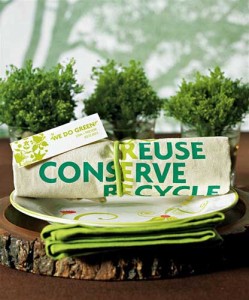 We all want to keep planet earth in good shape, right? Weddings are the most special time in your life and can be costly and somewhat not so eco-friendly. If you are thinking about throwing a "green wedding" we provide you with some great alternatives to help you start planning an awesome green wedding!
Nowadays there are many companies making paper products out of recycled paper. You are able to find invitations or save the dates that use recycled paper. Another option may be using an e-invite or an online invitation for your wedding. The only downfall is you may not have the correct email address, the elders may not have email nor a computer or your e-invite might get lost in spam. There are some cool invitations that are earth friendly that are stylish and elegant. You can even find invitations that guests can plant in their garden- the invitations are made with seeds!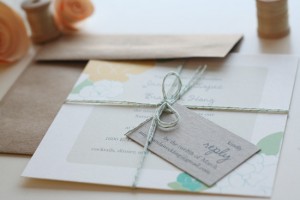 When choosing a reception venue for your green wedding take a few minutes to do research on the reception site! Ask if they recycle or use energy efficient appliances, all of these options help keep planet earth young. If you are a country gal or just love the outdoors, think about having an outdoor wedding. Find an old barn near town and transform it using eco-friendly décor! If you love flowers and gardens find the perfect spot at a botanical garden. Another great way to be green for your wedding is having your ceremony and reception at the same place, by doing this it will cut down on fuel emissions. Guests won't have to drive from the ceremony to the reception site if everything is done in one spot.
Find a caterer that uses locally grown veggies and fruits. The food is what every guest enjoys at celebrations so create a menu that includes seasonal foods. Or find a baker that creates delicious vegan cakes – no dairy products and no eggs. The options are endless!
There are chemicals being sprayed on your wedding flowers in order to keep insects away, which is so not eco-friendly. Try finding flowers that are in season and are locally grown. If you like DIY how about creating your own bouquet out of paper or create a bouquet with the new trend, silk flowers and antique brooches? Let your creative side out!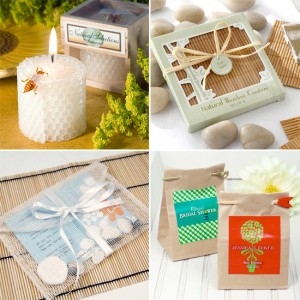 Instead of handing out favors to each guest, contribute to your favorite charity. This has become popular throughout the years and creates a difference in our society. If you still want to provide a little thank-you to all of your guests how about a great gift that is edible like chocolates or homemade candy. Are you planning a country theme wedding? How about local jam or honey as a favor?
The Wedding Dress- how do I find an eco-friendly dress? Most dresses are being made in factories using materials that are not earth friendly and some are even made at sweatshops! There are many lines out there that are eco-friendly that use organic cotton, silk or hemp.
These are just the beginning of some options to create a green wedding. But don't forget this is your day, switch out some tradition options for an eco-friendly option. There are more eco-friendly options more now than ever before. Keep your planet healthy by having a green wedding!