When choosing a wedding reception site/venue, it is important to have a clearly mapped out budget in place.  Sit down and make sure that the money you have allotted for your venue will get you your dream reception.  Don't think it's possible on your specific budget?  Here are some tips to help you have your perfect reception without breaking the bank.
1.)    Host an off-season wedding.  Banquet halls normally charge less during seasons that are off peak.
2.)    Getting married on a day besides a Saturday/Sunday.  Thursday and Friday weddings have become a new trend.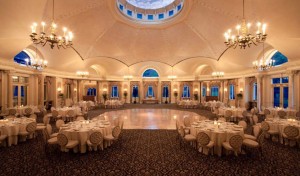 3.)    Make sure that when calling for your initial quotes from reception sites, that you don't use the word "wedding."  That's an almost guarantee your rates will automatically be marked up.
4.)    Provide your own centerpieces or table cloths.
5.)    Get an itemized quote for your reception site.  This was you can clearly see the cost of something specific and decide if it is a necessity to have at your reception.
6.)    Be sure and find out if your specific reception hall will be a different rate at a different time during the day.  Some reception sites will charge you more for having your event in the evening, and less if you held it during the afternoon.