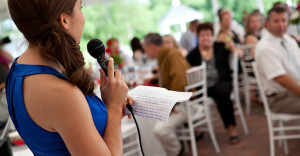 When preparing for your Maid of Honor speech it is best to write down your thoughts before the wedding day to prepare. Have someone your trust edit and go over the speech a few weeks before the wedding. About three weeks before the wedding is an ideal amount of time to begin to prepare for the speech.
Here are few tips to help you begin the speech. Begin your speech by expressing how honored you are to be in the wedding and thank the bride & groom! You want to include a personal memory or joke that can be relevant to all guests but especially the bride and groom. Add a piece of advice or an inspirational quote to your speech. This is a great personal touch to any speech. It can be encouraging words of wisdom that will be meaningful to the bride and groom. Conclude with holding up your glass and citing the words "To Bob & Mary".
Don't forget to keep the speech short and simple. Speeches can be a minimum of two lines. Keeping the speech short will keep guests listening. You should practice your speech out loud beforehand to make sure you are comfort with it. Make sure to keep your speech consistent.
The Maid of Honor speech can be intimidating but you want to do your best at wishing the bride and groom a lifetime of marriage and happiness!