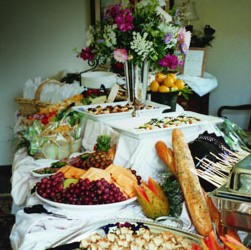 Do you remember three years back, going out on a dinner date, and your boyfriend asks you, " What are you in the mood for?", you respond with, "Doesn't matter". You interrogate each other for the next ten minutes until you make a decision, Olive Garden. Now, you and your boyfriend are having trouble choosing from the menu. Fast forward – three years later, you and your fiancé are getting married! Wedding planning is going well and the wedding theme, colors, wedding reception hall, and wedding caterer are all chosen.
However, you and your spouse are having a difficult time choosing a reception menu. Sound familiar? Indecisiveness will be an unwanted guest at your reception. What meal is suitable for your wedding reception? Stop! Do not question one another about what he or she would prefer. Simply, take out a piece of paper and each of you writes down food that is enjoyable for you. Now, exchange papers and discuss what you may think the guests will enjoy. This is only one way to avoid inviting an unwanted guest, but here are several others:
If you and your spouse share a specific culture, consider incorporating cultural/ international food into your menu.
Did your first date take place at a coffee shop? How about creating your menu in such a way that is memorable for you and your spouse. If you met in a coffee shop, how about serving various pastries in memory of your first date?
Still can't decide? Ask for help! Your wedding caterer will be more than happy to help choose a menu for you.
Again, these are only several suggestions. They will come in handy while planning your wedding.
Good luck!