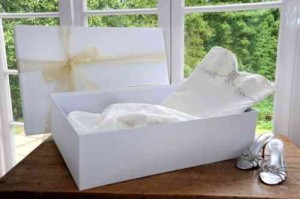 Wedding Gown Cleaning/Preservation:
On your special day there are lots of DIY projects that you and your groom can part take in.  However, wedding gown preservation should be left to the professionals.  When working with many fabrics and different textures, one must know exactly which chemical agent reacts with what.  A lot can go wrong and fast if you use the wrong cleaning agent, for example, on silk or tool.  The first step to ensuring that your gown is pristine and ready for preservation for years to come is to make sure you do your research.  Find a shop that specializes in the cleaning of wedding gowns.  Most dry cleaners do clean wedding gowns, but the quality of their job might not be as high as that of a store that specifically specializes in fine garment cleaning/preserving.
How wedding gown preservation works:
There are different options to preservation your wedding gown.  Many people opt. for the box kit in which their wedding gown is professionally packed into a box that is sealed amongst acid free tissue paper.  You can choose to have your wedding dress professionally sealed in a box, or you can DIY and purchase a box kit online or from your cleaners and preserve your dress yourself.  If you preserve your wedding dress yourself as a DIY project, it is highly recommended to still have your wedding dress cleaned by a professional who knows the reactions of the cleaning agents they are using.   Others may choose a simpler method of storage in which the dress is hung up in a Teflon coated garment bag, which protects the dress from erosion as well as keeping it wrinkle free.