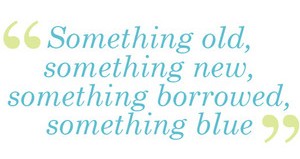 "Something Old, Something New, Something Borrowed, Something Blue" I am sure you know the saying and are probably trying to gather items that will conclude as treasured good luck charms for your big day. Something old goes back to ancient times symbolizing the continuity with the brides' family and their past. There are many ways to incorporate something old into your wedding, the most obvious being, wearing your mother's or grandmothers wedding gown.
If neither wedding gowns are in good condition and you have your own gown, think about adding different items into your wedding. For instance, how about using an old handkerchief that was your grandmothers as the wrap for your bridal bouquet?
You could also wear a piece of jewelry that has sentimental value to you, such as your great grandmother's bracelet or your grandmother's engagement ring.
Use a piece of lace or tulle from your mother's veil to make your own veil. Wear a locket with pictures of your loved ones inside or wrap the locket around your wedding bouquet.
Add something old to the reception by putting out wedding photographs of your great grandparents or grandparents as a personal touch to your wedding. Your wedding guests will enjoy viewing the wedding photographs of your family's past weddings.
Stay tuned for a continuation of the poem! What will you be adding into your wedding as something old?