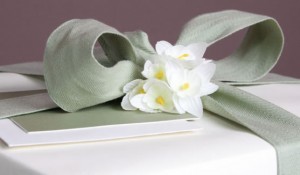 Register for your wedding gifts together that way you both agree on items on the registry. Make sure that you put items on your registry that are useful to you. Don't add that snazzy party plate set if you don't think you will be hosting a party. Be reasonable about your items.
Think about registering early but not too early that items on your list will be out of stock or no longer available. Guests will be looking to find the perfect present and will need your help.
Return policies – make sure you have checked out the stores policy. If you receive 5 of a certain item but only need 1, make sure you are able to return them. Make sure you understand the policy and know the time limit you are able to return or exchange items until.
Find out if you registry is available online as well as in the store. Most stores make it available online, but check first just to be sure. Having the list online helps guests take their time to browse the items and decide which items they wish to buy.
Gift cards are a great idea to give as a gift. Don't be afraid to add gift cards to your list. If guests can't decide what to buy, resorting to giving a gift card is a plus. You will be able to buy whatever you need with it.
Don't forget the thank you's!  After the big day and get back from the honeymoon, begin to sort out all of the items you have received and make a list of who bought what. Writing thank you cards is a must. Make these cards more personable by writing the name of the gift in the thank you. Guests want to make sure you have received their gift, by stating the gift ensures you have received it.