Here are some crucial questions to ask your reception site before you book. Make sure to ask about the specifics including:
The Facility Itself:
-Can it accommodate the number of guests in attendance at your wedding?
-Handicap accessible?
-Heating or air conditioning?
-Bridal suite? (for mid-reception touch-ups)
-Cost of setting up the ceremonial seating?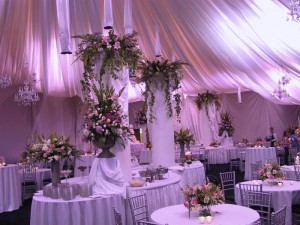 About your Wedding Date:
-Are you the only wedding booked for that specific day?
-If so, are there any aspects of your venue that will be divided/shared? (bathrooms/suites..etc.)
-Are you allowed to make any décor changes on the day of your wedding to match your theme?
Number of Hours:
-Traditionally receptions last anywhere from 5 to 7 hours.
-Ask how many hours you will be given on the day of your reception and if you exceed that limit will they charge you for the additional hours you used? (Sometimes receptions sites will go as far as charging $500 for additional hours used)
Alcohol and bar:
-Does your reception site provide alcohol and bartenders, or will you be in charge of providing them?
-Are there certain restrictions applied with regards to the quantity of alcohol being served?
-Does this specific site offer the option of an open bar, or is cash only required?
-Do not forget to ask about their liability insurance and its specifics or even if they have one?
Entertainment:
-Is the dance floor big enough for all your guests?
-Ask the facility manager to show your DJ or band where they are to set up.
-Its important to make sure your reception site can accommodate your DJ or band to the fullest.
Parking:
-Do you need to hire a valet service or parking attendant?
-How many spaces will be available to you on your wedding day?
Overnight Accommodations:
-Does your reception site offer overnight accommodations to your guests that are traveling from far distances?
-Can you reserve a specific number of hotel rooms for the night of your wedding?
-If you were to reserve a block of rooms for the night of your wedding, would there be a discount applied?
Wedding Coordinator:
-Some reception sites will have a wedding coordinator on staff the night of your wedding and at no extra cost to you.  This is just an extra person to ensure that your wedding goes as smoothly as possible.  Ask if your respective facility offers this accommodation?