Here are some fun new ideas on how to spice up the traditional wedding programs.
-For the couple that likes to travel, cut out oversized luggage tickets on various different patterned pieces of paper.  Glue your printed program onto the tickets for a fun easy do it yourself project, that looks fashion forward and yet relevant to the two of you on your big day.  Bind the tags together with a small elastic band to offer more of an authentic luggage tag feel or use strips of lace or ribbon to make it more classical.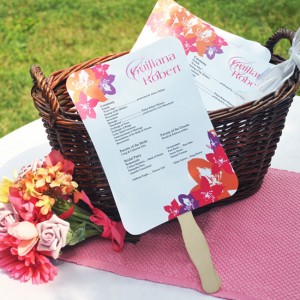 -If your wedding is outside during one of the summer months, try making classic paper fans made out of oak tag and ribbon-wrapped popsicle sticks with your program glued to the paper.  This will not only offer a southern charm to your wedding but will also serve the useful purpose of keeping your guests cool.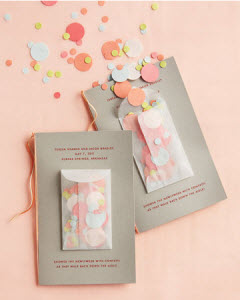 -Another DIY wedding program idea offers the duel purpose of outlining the events at your wedding while also providing confetti for your guests to throw. This simple yet fun idea is not only easy to create but also will give your guest a fun filled memory that will last a life-time.  Start by attaching a glassine envelope to the front of your wedding program.  Fill the envelopes with colored confetti that correlates with the theme of your wedding or use shiny sequins to add a hint of sparkle.  Your guests will be able to toss the colorful bits of paper/confetti as your and your husband start your new life together.