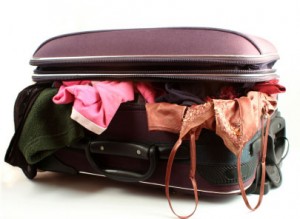 Honeymoons are a very exciting time. You are traveling to a place you probably have never been to before, you just got married and you want to relax after all the months of planning!  Before you can unwind, you must pack for the trip and that can be stressful!  Use our tips below to pack like a pro and you'll be on your way in no time!
Even if you are traveling to a tropical location, make sure you bring one pair of pants and a sweatshirt or long sleeve shirt, just in case you have a cold day or night.  A pair of sneakers should also be considered for any adventurous excursions that the resort may offer.
You should line the bottom of your suitcase with shoes since that area takes the hardest beating.  Electronics should be placed inside a protective bag and placed in the center with rolled jeans and sweatshirts on top to help protect them.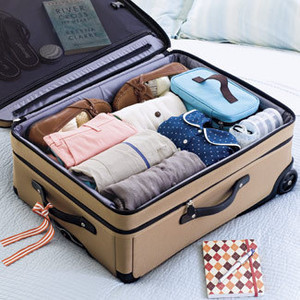 Layer dresses and pants lengthwise on top of your sweatshirts and jeans, the ends hanging out of the suitcase. This helps your dresses and pants to stay wrinkle-free! Shirts, sweaters and tanks should be rolled. Place them on top of the layered dresses and fold the ends of the dresses on top of the layered shirts. Delicates should be folded and placed on top of the shirt and sweater layer. Toiletries and lingerie should be placed in smaller, separate bags and placed on top.
Don't forget to place all liquids in 3.4 ounce bottles within a clear resealable bag. Each bag is inspect and checked by security at all airports. Also remember to have an approved TSA (Transportation Safety Act) lock on your luggage.
Make sure you have followed all security restrictions so that your traveling experience is a smooth one.  You can find the most up to date traveling information here.
Happy Honeymooning!