It is time to celebrate! Wedding dress: check, tuxedo: check, wedding rings: check, reception hall: check, wedding cake: check! Well, almost.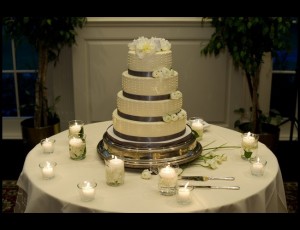 A wedding is a time of celebration and happiness with the love of your life, family, and friends; however, it is time consuming. You are about to embark on a new, exciting adventure so why not make your wedding one to remember? Sure, the wedding dress, wedding ring, reception, number of guests, and caterers are the essentials; however, what about the taste of the wedding cake? If you want you're wedding to stand out from the rest, take this advice: Cake is the new centerpiece. Choose a cake flavor that will have your guests coming back for seconds.  Pound cake, chocolate, vanilla, and marble are too original. Rather, try circumventing negative reactions from your wedding guests by displaying beautifully presented decorations as well as uniquely displaying a taste that will spark you and your guests` taste buds. How about attending a cake testing when visiting a bakery? If you are unsure of how the guests will react, taste it yourself! Visit a cake testing, discover what new flavors are brewing in 2012, and maybe even combine flavors to your liking. According to New York Weddings, here are the top ten cake flavors:
10. Chocolate-almond cake, chocolate ganache, and mocha buttercream
9. Banana cake and chocolate buttercream
8. Coconut cake and lime buttercream
7. Hazelnut-almond cake, chocolate ganache, and raspberries
6. White cake, lemon buttercream, and raspberries
5. Chocolate devil's food cake, chocolate ganache, and praline buttercream
4. Lemon cake, lemon curd, and vanilla buttercream
3. Yellow butter cake and chocolate buttercream and/or chocolate ganache
2. Chocolate devil's food cake, vanilla buttercream, and raspberries
1. Chocolate devil's food cake and vanilla buttercream
Sidenote: A ganache is a light, velvety icing, buttercream is a type of icing containing fat and sugar, and lemon curd is thick, creamy spread.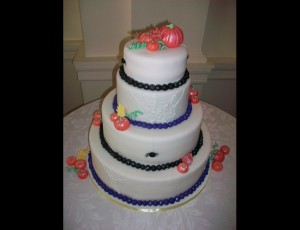 The traditional wedding cake flavors are delicious; however, these ten cake flavors are combinations of various flavors rather than just one flavor. Do not be afraid to search from bakery to bakery to find a great cake flavor. Enjoy your wedding reception, create new memories, and invite a new guest: a tasty wedding cake flavor that will never be forgotten.
See our favorite cakes HERE!