Here comes the groom, here comes the groom, how about creating a groomsman cake? Weddings are the bride's most exciting day. Right?  They look forward to their wedding day; they look forward to spending the rest of their life with the one they love. What about the groom? Grooms also look forward to marrying the one they love, but what else do they have to look forward to on their special day? Well, how about a cake. A groom's cake. Grooms cakes are an old tradition that has been swept under the rug and are now finally being rediscovered. Have you ever heard the saying, " It takes two?" Well, in this generation it takes two cakes to complete a wedding. Do not worry if you have never known a couple to follow through with the tradition of a groom's cake and are now trying to create one for your groom. Relax. Continue reading this article to get a taste for some creative, well designed groom's cakes. Many weddings have portrayed groom`s cakes as humorous and a reflection of the groom, himself. For example, here is a picture of a groom's cake shaped and designed like a cheeseburger.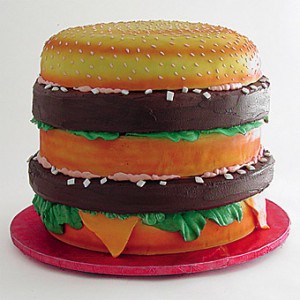 This cake looks exactly like a cheeseburger, it is pretty neat. Does your groom enjoy food? Well, the cheeseburger is just an idea, try exploring other food options such as a steak, donut, or even a pizza!
Here are a few other groom's cake ideas for your groom:
Cake Poker!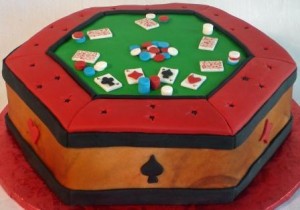 Is your groom into card games such as poker? Here is a great cake for a groom's cake. It is very creative and meant for eating, but this cake is designed to be mistaken for an actual poker table. I have another idea. If your groom is not into poker, how about creating a board game such as monopoly or scrabble?
Sit back, relax, drink up!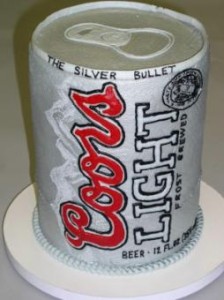 This is such a neat groom's cake. The design is so nicely done and
it looks precisely like an actual Coors Light can. However, you do not have to
simply design a cake sculpted like a beer can, you could always think of other types
of refreshments such as a wine bottle or champagne.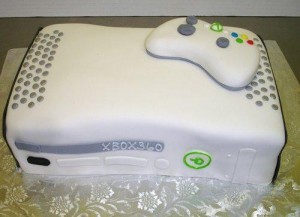 XBOX 360!
This cake represents every argument you and your groom have gotten into due to the amount of time spent playing on a game system.  While you spoke of flower arrangements and reception halls, he claimed to have multitasked playing and listening. Whether he was listening or not, I am sure that he will always listen to you if this was his groom cake. This cake is such a great idea. This cake does not only have to represent XBOX, but also Ipads, Ipods, Playstations, etc.
These were just several ideas for groom cakes, but there are plenty more.  How about creating and designing a groom cake based on the groom himself? No hobbies included, no talents, just simply him. What is meant by this idea is to create a cake of any color of any flavor and cover it with quotes or favorite sayings that make him memorable. Maybe include the way in which he proposed to you or the various things that make him who he is now, and who he is as your groom.
Keep searching. If you cannot find any groom cakes that suffice from the Web, then I suggest that you design the cake yourself or have a local baker help. Groom cakes are an old tradition, but now they are resurfacing. Two cakes are better than one! Here comes the groom, here comes the groom, create new ideas because the wedding is at noon, here comes the groom, here comes the groom, here comes the groom, no worries, because the groom cake will be designed soon!
*Sources for pictures:
http://www.trulyengaging.com/wp-content/uploads/2008/10/burger-cake-300×300.jpg
http://atrotter719.deviantart.com/art/XBox-front-169242225