Nestled in the beautiful Delaware Valley, Drexelbrook is the perfect wedding venue. Recognized throughout the region as one of the best caterers in Philadelphia and known for its beautiful wedding ballrooms, reception halls and gardens, this is the place to flaunt your wedding dress.  Drexelbrook's focus on quality and excellence are evident in the appealing menus and the beautiful wedding venue.
When planning your day with the Drexelbrook staff, you will find them to be passionate, sincere, and professional. The planning staff is with you every step of the way, making your experience as relaxing as possible, while bringing your visions of your wedding to life with their room design programming and catering software.
While having a great time, enjoying their scrumptious food or dancing the night away in their ballroom, you'll discover the surroundings to be elegant, and well situated to fit your needs.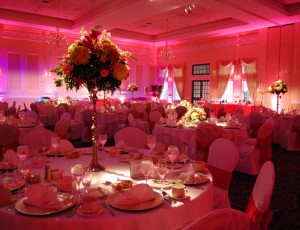 Drexelbrook is also the perfect place to have your wedding photographer snap those memorable pictures. The beautiful patios, gazebo and lovely walking gardens provide the perfect place for you and your party to have your wedding photography done and not stray too far from your guests!
If they are catering your event, whether it be on-site at their stunning ballroom or at your own wedding reception hall, you will find their staff to be polite and well-trained and cheerful.  And the food?  Well, you just have to try it to believe it!
If you are looking for a passionate and professional staff and an elegant and sophisticated, location for your Philadelphia or Delaware County wedding, Drexelbrook is the place to choose. Check out their facility page HERE!