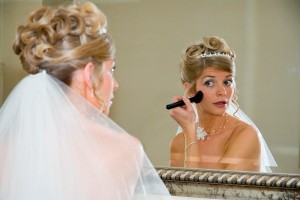 These beauty routines will help prepare your skin before the big day!
6 Months before wedding date: Make sure you have been drinking plenty of water to give your skin a natural glow. Moisturize your skin with a moisturizer that contains SPF to make sure your skin gets rejuvenated. Hair care is essential right now. Do not try any new products that may damage your hair. A deep conditioning treatment may be something you want to look into especially if you are growing it out- you may want to go to a salon for this type of treatment.
5 Months before the wedding: Research hair salons in your area to have a consultation for the big day. Make sure you give the stylist pictures of a hair style you like for your wedding. Be sure they have plenty of stylists on hand the day of your wedding for you and your bridesmaids. Caffeine should be cut back at this time to help improve your skin and teeth. You don't want those pearly whites to be stained! Think about having a teeth whitening treatment at this time.
4 Months before the wedding: Exfoliate your skin so that your back, shoulders and arms are glowing. It is best to try out spray-tans or self tanners now before the wedding date so you have some time to find the best product. If your wedding gown is open back or strapless, make sure you back and shoulders are moisturized. Another hair session with your headpiece or veil, if you are having one should be scheduled. Makeup trials should also begin. To avoid stained teeth use an at home teeth whitening kit everyday until date.
1 Week before the wedding: Remember to go easy on the caffeine, sodium and alcohol- by doing so your skin won't be inflated the week before your wedding. Confirm your pre-wedding appointments for both you and your bridal party – hair, makeup, manicure and pedicure.
1 Day before the wedding: Time to get your manicure and pedicures with your bridal party! Don't forget to relax and enjoy the day before saying "I Do"!