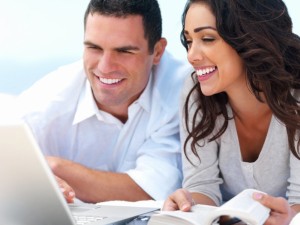 "It takes two to tango!" It also takes two to be married! Wedding planning is stressful; it can even be frustrating if your groom doesn't give an opinion. We have compiled a list of things that your groom can take part in for the wedding planning. After all, he did slip the ring on!
The worst part of the wedding planning is agreeing on something. Even though your groom may never give his opinion, he has one. Be sure to agree on something before having it is set in stone. It is best to ask what he thinks instead of making a decision all on your own. He can help out with picking the type of cake, wedding theme, music and more.
Make sure that all the groomsmen know about the fitting for their tuxes. Your groom can send out an email or call up his groomsmen about the date, time and place of the tuxedo shop. It is a good idea to include directions to the tux shop and remind them to take back their tux to avoid late fees.
If most of the planning is being done by you, give your groom a little hint to plan for both of you to relax one night. You can go out to relax and enjoy the time together. It is easy to forget to relax while planning something extravagant.
Grooms, it is okay to be a little romantic on your wedding day– it is your day! Before the wedding, while your bride is getting ready, take your videographer aside and plan to record a message to her. Writing a special letter to her or giving her a present that she can unwrap while she is getting ready is also very touching and thoughtful. It is common that most couples give each other gifts before walking down the aisle.
Know that wedding planning is stressful, but by helping each other become more involved and opinionated it will be a relaxed journey!