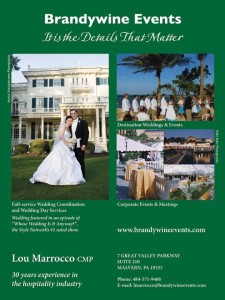 Lou Marrocco, founder of Brandywine Events, is a wedding planner who has been making brides' dreams become a reality for 30 years.  He has a wealth of experience, from planning events at a private yacht club in Newport Beach, CA to a birthday party for Jacques Cousteau at Mount Vernon, VA.  He has been involved in four Presidential Inaugurations and has worked for the U.S. State Department.  Yet when he sits down with you to discuss your plans, he focuses on you and you alone.  He believes it is best to work one-on-one with the clients to determine their wedding day goals and objectives.  And with his vast network of suppliers, you can be sure that he will fulfill your dreams for the big day.
Brandywine Events is not limited geographically.  Have you always wanted a destination wedding?  Lou has worked around the globe.  You want a beach wedding?  Sure thing.  An elegant city wedding?  Lou will make it happen.  He can find you the wedding venue that will fit your style even if it's here in the Brandywine Valley.
Given Lou's vast network, your choice will not be limited to just a few vendors.  Brandywine Events will help you find virtually everything you need for your wedding, from the right baker for your wedding cake to the vendor who makes those wedding favors you think are so adorable.
Lou is not only experienced but is a well respected wedding planner in the industry.  He has even been seen on a national television programming where he planned a wedding for a bride with an 85 page to-do list.