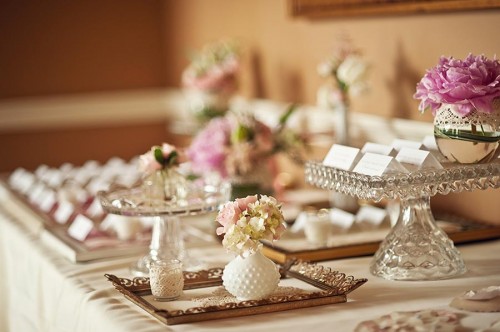 We have been seeing many vintage themes and personalized items for 2014 weddings!  Beading on wedding gowns and vintage decor are also trending for 2014 weddings!
Wedding gowns have had their share of styles. For 2014, wedding gowns will be in all shades of whites and creams to pinks and blues. You will also see a lot beading on gowns.
Vintage décor in wedding themes is becoming very popular. Adding photographs of your parents and grandparents adds a very personal touch to your wedding. Incorporate an antique brooch to your bouquet or wear your grandmother's necklace on your wedding day. Pearls and roses also provide a vintage ambiance to any occasion.
With today's technology, creating a wedding that is uniquely personalized to you and your groom can be very easy. Personalized engagement announcements with photographs, monogrammed invitations, live recorded weddings for guests who are unable to attend, wedding photos shared with family and friends thru social media and online wedding announcements, RSVPs, & wedding websites. You can create a wedding that is virtually personalized however you wish.
Remember it is your big day, the décor and details should fit both of your personalities! Happy Planning!