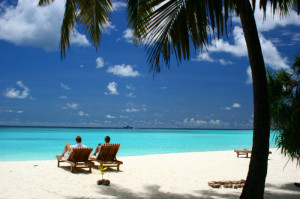 Trying to stay within your honeymoon budget can be tough. It can be much easier to plan your honeymoon with a travel agent. Travel agents can find deals that you might not be able to find. They will be able to find the perfect honeymoon that is within your budget. Make sure to provide what type of traveler you and your partner are. If you would like to have a relaxing honeymoon or an adventurous honeymoon. Give examples of what you are looking for and price ranges. Your travel agent will do all the work and make sure your honeymoon is within your budget.
If you prefer to do the research yourself, think about these key factors that will help you stay within your budget. If you have a points on your credit card use them to help save on hotel reservations or airfare – free airfare is one way to save big! Think about having a honeymoon registry instead of a wedding registry. Allow guests opt to pay for a portion of your trip instead of traditional gifts. Look for all inclusive vacations meaning, three meals daily, drinks, gratuities, and services are all at a fixed price. Book your vacation on an off-peak season where prices are low and crowds are gone. Also, if traveling by air, leave on an off-peak day.
When planning your honeymoon getaway don't forget to think about these key factors to keep you within your budget! Happy Honeymoon!