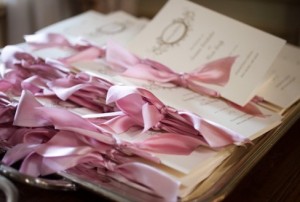 Making wedding programs can be somewhat tricky, what goes next? In what order is the bridal party? Can I list my step-parents? There are easy templates that you can find online, but be sure these important pieces are on the program!
Make sure you have included full names of the bride and groom, wedding party, the name of the officiant, city and state of the ceremony location, the wedding date, the order of the ceremony (including songs, composers, performers and readings), rituals, a thank you note, and if you would like to include a memorial to loved ones.
On the front cover of the program it should read the Bride & Groom's full name, the wedding date, the name of the ceremony location with city and state. The program should contribute to your wedding theme.
Inside front cover should read the order of ceremony:
Prelude
Processional of the Bride
Greeting
Readings
Prayers
Exchange of Vows
Ring Ceremony
Unity candle ceremony
Pronouncement of marriage
Recessional music
The right side should include the names of the bridal party, including the officiant, parents of the bride & groom and grandparents of the bride & groom. You can include your step-parents as well.
Officiant
Parents of the Bride
Parents of the Groom
Grandparents of the Bride
Grandparents of the Groom
Maid of Honor
Best Man
Bridesmaids
Groomsmen
Flower Girl
Ring Bearer
On the back a thank you note from the couple should be included. You can also add a memorial for deceased loved ones that you would like to honor. Make sure the spelling of names, music, and locations are correct on your program. Wedding guests like to take home these programs as a keepsake from your wedding.