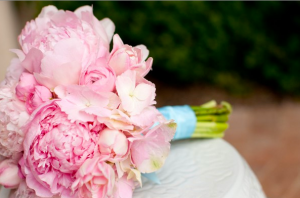 Wedding bouquets are a big part of the décor for your wedding. The bride's bouquet should be larger than her bridesmaids and should complement her wedding dress.  Bigger flowers will complement a fuller gown while small flowers go well with a slim fitting gown. The florist will direct you to flowers that will help balance the bouquet with your gown. The bridesmaid bouquets are normally smaller than yours. You don't have to use the same exact flowers as your bouquet. You may want to choose a few flowers from your bouquet for the bridesmaids bouquet, just to tie them together.  The bridesmaid bouquets will complement your bouquet.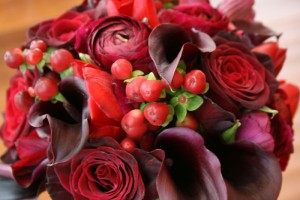 The color of your bouquets should reflect the color scheme of your wedding. You should also consider the season when your wedding will be held. The seasons may alter the price of the type of flowers you pick if they are in season. Fall colors such as red, orange or yellow go great with an autumn wedding. Pale tones in the colors of pink, white, blue and purple are great for spring and summer weddings- consider peonies and baby's breath! Deep reds and greens, like red roses or poinsettias, are great for winter weddings.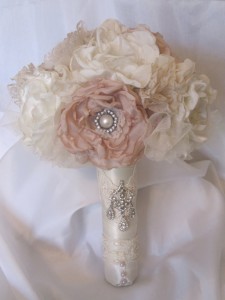 If you are going to toss your bouquet, brides usually make up a smaller bouquet to toss. Most brides will use the same flowers, but another great alternative is to make a fabric flower bouquet. This will give the guest who caught the bouquet a lifelong keepsake from your wedding!
~ Alternatives to fresh flower bouquets are silk flowers, fabric flowers or a brooch bouquet. Silk flowers look like fresh flowers but last a lifetime. The new trend, fabric flowers can be a DIY project or you can hire a professional to make your fabric flower bouquet. The brooch bouquet is a vintage style bouquet that can also be a DIY project it is unique and adds personality.