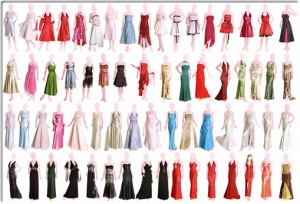 When choosing a bridesmaid's dress, brides should focus on complementing the bride's dress but keep in mind it should also be comfortable for the bridesmaid. Once the bride narrows the choices down, it is always helpful to ask for the bridesmaids' opinion as to their color preference, style choice, and remember their budget as well. Along with complementing the wedding dress, the bridesmaid dresses should also complement the wedding reception venue as well as the themed decorations; an example being the wedding cake.  It may be helpful to put together some wedding ideas, wedding themes, or categories before deciding on a dress style.
As the bride decides on a style of the dress, she should choose a style that fits the body type of the bridesmaid.  A popular trend is choosing multiple styles that come in the same color, and having the bridesmaid choose the style that best fits their body type.  When in doubt, an A-line style dress complements every body type.
Most bridesmaid dresses are one of the wedding colors.  If this does not appeal to the bride, make sure that the color you do choose for the bridesmaid's complements the wedding color scheme.  It is wise to keep in mind the season when choosing a dress.  Short, strapless dresses may be too flimsy for a winter wedding, while heavy fabrics wouldn't fit an outdoor wedding.
Once the dress choice has been made, bridesmaids should be measured professionally to ensure that the best size has been selected for them.  If the store has a website, it is smart to check it out to see if they offer a discount that they don't in stores.  Dresses should be ordered as soon as the bride makes the final decision.  Styles are always being added and discontinued, so ordering right away will prevent the stress of having the style you chose discontinued.  Ordering all the dresses at once will provide possible color-dye variation mishaps.  You also want to leave plenty of time, about a month before the wedding, for alterations to be made.
Ultimately, choosing the bridesmaid dress is the bride's decision.  However, keep in mind the above tips to ensure your bridesmaid's happiness on your wedding day!