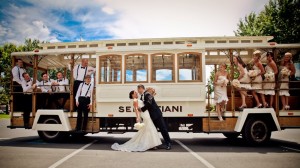 Transportation is an important part of your wedding. Options for transportation to your wedding are endless. It is part of the wedding planning to make sure transportation arrives on time to the ceremony and reception. Before booking transportation, think about the type of vehicle you want to arrive in. There are many options such as limousine, trolley, bus, horse & carriage or vintage cars!
The most common type of wedding transportation is limousine. Limos will be able to hold most of your bridal party, but you may need more than one limo depending on how big your bridal party is. They are formal and have enough room for the common bridal party amount.
If you are looking for something a bit fancier, rent a trolley to take your bridal party to the reception. It is formal yet vintage and able to hold the entire bridal party and your parents!
Party buses are big enough to hold up to 40 people. This is a great idea when you have a bigger bridal party and want both sets of parents to travel with you to the reception. Most party buses are licensed to have liquor, but ask the company to be sure.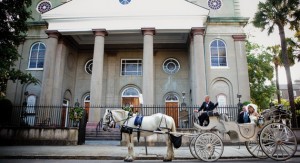 If you want your wedding to be a complete fairy tale, ride to the ceremony and reception by horse & carriage. It will be very special and romantic, a dream come true. You will be sure to feel like a princess for the day!
Do you love the décor from vintage weddings? Vintage cars are very formal and romantic. This option allows only you and your groom to arrive together to the reception. The perfect way to add vintage décor to your wedding!
What vehicle will you arrive in?